FRUIT TREES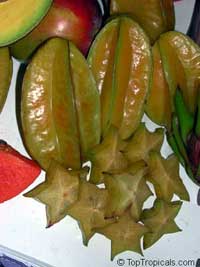 1021 Averrhoa carambola var. Kari - Starfruit
Carambola var Kari was developed at the University of Hawaii. Sweet, juicy, rich-flavored fruits. Yellow-orange when ripe. More round shape with less green-edged wings.
The plant will fruit in container even when in small size (2-3 ft).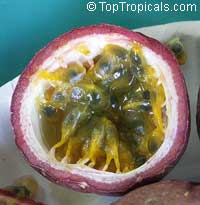 2380 Passiflora edulis Possum Purple - Passion Fruit, Maracuya
Purple Passion Fruit, Maracuya - delicious fruit, flavor is appealing, musky, guava-like, acid. Great for drinks. Vigorous fast growing vine that is relatively cold tolerant.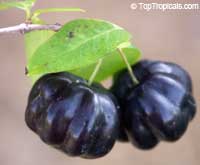 3554 Eugenia uniflora - Black Surinam Cherry, var. Black Star, 3 gal pot
Very rare - Black Surinam Cherry, grafted variety. The sweetest variety, without aftertaste, the fruit is large 1-1.2 inch, dark red to almost black, very juicy. Reliable producer. Hard-to-find. The tree is upright, freely branching. Produces fruit on second year after planting. Once established, the plant can withstand upper 20's without damage.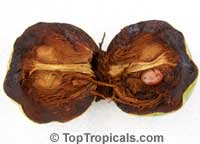 1073 Diospyros digyna - Black Sapote grafted var. Black Beauty
Grafted Black Sapote, Chocolate Pudding Fruit, Black/Chocolate Persimmon. One of the most exotic tropical fruit, sweet black pulp tastes like chocolate pudding. Cold tolerant to light freeze, flood tolerant. Fast growing tree, heavy producer. Grafted trees will start fruiting next year.

FRAGRANT PLANTS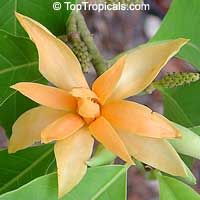 1156 Magnolia (Michelia) champaca Yellow - Joy Perfume Tree
Joy Perfume Tree with orange/yellow flowers. The flowers from this tree are used to make the world's most expensive perfume 'Joy'. Grows to the size of a large shrub or small tree, 15-20' in height. It is a tropical tree, however established plants can tolerate light freeze. Yellow Champaca is much more cold tolerant than var. Alba.
This is one of the best perfume trees for your landscape. Seedlings start to bloom within 4-5 years in tropical climate.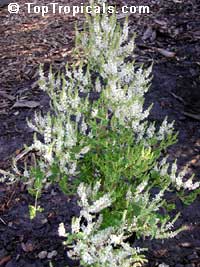 2104 Iboza riparia - Musk Bush
Musk Bush, Misty Plume Bush, Ginger Bush - a highly aromatic shrub with ginger-scented velvet leaves and showy white flowers, used medicinally: for respiratory (inhalations), and as relaxant (especially with item 2764 Psychotria viridis). Easy to grow, wonderful fragrance!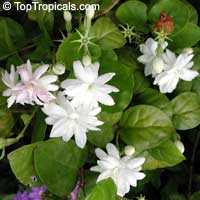 1127 Jasminum sambac Mysore Mulli
Jasmine sambac Mysore Mulli. Fast growing variety with highly fragrant double flowers. Can be grown as a vine or trimmed as a dense shrub. This variety is a vining shrub, pretty fast growing, that requires constant pruning to keep compact shape. If you let it go - the plant will grow as a large vine. Flowers are double and heavily scented. Blooms profusely provided full sun. The most reliable bloomer of all sambacs. Will tolerate some shade with less blooming. Perfect houseplant, takes both sun or shade, Jasminum Sambac is a beautiful fragrant everbloomer for your home and garden.
For full list of new arrivals,
please visit this page
10% OFF discount:
Use voucher 111510110656 in your shopping cart and click "recalculate"

RARE AND UNUSUAL
4254 Phoenix dactylifera x iberica - rare Date Palm variety
This is a rare variety of Date Palm from Spain, with larger fruit that has more flesh. We have only a few small size plants. Collectible item.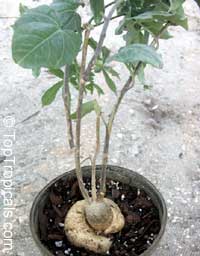 3037 Ipomoea platensis - Caudiciform Morning Glory
A remarkable Morning Glory native to arid regions of Argentina. Like other caudiciform species, it has swollen stems containing water-storage tissue, and can survive extended periods of drought. Give it a well-drained soil, keep it moist and keep it out of the full sun. The caudex will grow to more than 2 ft, the vines reach for more than 12 ft. The bell-shaped flowers are pink. The plant is very showy; it can be kept in a pot as a bonsai and is easy to control as a container specimen, just needs a little trellis, or can be pruned. Fast growing.
See picture of plants with caudex
HOT ITEM: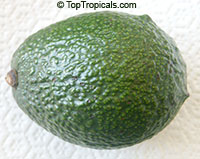 3529 Persea americana - Avocado Wurtz, Dwarf
Avocado Wurtz is dwarf hybrid. It is very compact and slow growing, reaching only about 10-15 feet at maturity. Great for dooryard or container growing. The tree can handle temperatures to 25(F) degrees. Fruit is thin-skinned, 10-12 oz. The seed is small and fruit skin is smooth.
Fruits ripen green from May to September. The flavor is very good. Production is good and it is a consistent bearer.