COFFEE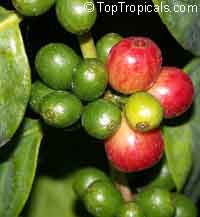 2094 Coffea arabica - Coffee
Coffee - the most popular fruit tree suitable for indoors. Shade loving plant, easy to grow, providing regular water.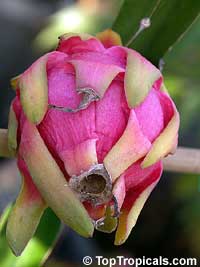 1112 Hylocereus - Red Pitaya, Dragon Fruit
Self-fruiting variety. Pitaya is a highly prized, vining, fruit bearing cactus is terrestrial/epiphytic plant which is extremely unusual. Magnificent flowers, stunningly beautiful fruit with an intense color, curious shape, and a delicious taste. The night blooming white flowers can be up to 14 inches in length.
It is a must have for any collector or gardener with the flair for the unusual.

RARE
4252 Syzygium malaccensis var. Blanca - White Malay Apple
Rare Collectable -
SMALL SIZE PLANTS.
Rare variety of Malay Apple from Hawaii, with off-white fruit, very sweet and juicy. Keep in mind that this plant is cold sensitive and requires protection below 40F. Can be grown in container.
RAMBUTAN FRUITING
IN FLORIDA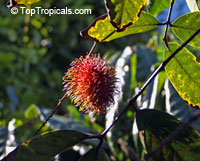 Our Rambutan flowered this year and after 3 years of waiting now we finally have its first fruit! We can do it here in Florida; you can do it, too!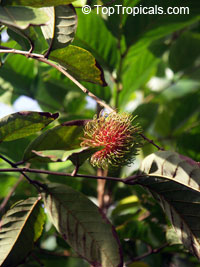 For list of new arrivals,
please visit this page
10% OFF discount:
Use voucher 019310110840 in your shopping cart and click "recalculate"

HAPPY GARDENING!
CACAO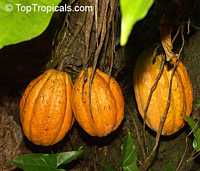 2152 Theobroma cacao - Chocolate tree
Chocolate tree, Cacao. This beautiful tree has large dark green leaves that shade the fruit pods which grow directly from the trunk and branches. The flesh is eaten as a dessert, and the seeds are the raw material of chocolate. Hot chocolate can be made by drying the seeds, roasting, grinding, and adding milk. Chocolate beans were used as money by the Maya Indians of Central America.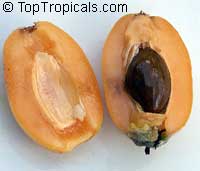 4249 Eriobotrya japonica - Loquat Yehuda grafted
Very cold hardy fruit tree, easy to grow, drought tolerant, fast growing. Fruit are large size, yellow orange flesh, mildly sweet with very small seed inside. In Florida fruit ripens in late February-March. Fruit is great for eating fresh or making jam.