AVOCADO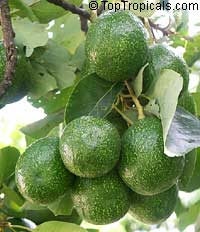 3918 var. Golden
Local Florida variety originated in Wauchula, which is very cold place, comparing to South Florida. This variety survived winters of 2009 and 2010 in Wauchula, when temperature dropped to low 20s F, without any significant damages. Very unusual medium size fruit - round yellow and smooth skin; creamy-yellow flesh.
3916 var. Nishikawa
- originated in Hawaii. It's a mix of Guatemalan and Mexican avocado type. Average cold hardiness. Ripen in December-January (in Florida. Oval fruit is somewhat resemble Hass variety of avocado, but larger. Has very high oil content. Vigorous and upright growing tree.
3917 var. Yamagata
Yamagata variety is very early. It ripens in Florida in March-April when no other varieties produce fruit. Fruit is large, pear-shaped, with a small seed and green skin. It's a very fine, gourmet Hawaiian avocado named for agriculture specialist Heiji Yamagata, who develeoped it. Very vigorous and upright growing tree.
For list of new arrivals,
please visit this page
10% OFF discount:
Use voucher 806818190986 in your shopping cart and click "recalculate"