1062 Alocasia Stingray
Fast growing and easy care - unusual Alocasia from Thailand. The rounded leaves have the normal lobed rear but come to a long point and truly resemble the body of a stingray complete with tail. Hardy to Zone 8 or 9 (may die back in cold winter).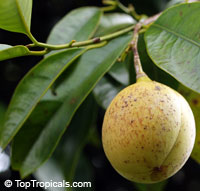 Nutmeg - the spice consisting of the seed has a characteristic, pleasant fragrance and slightly warm taste; it is used to flavor many kinds of baked goods, confections, puddings, meats, sausages, sauces, vegetables, and such beverages as eggnog. See pictures of the actual plants for sale: pictire 1, pictire 2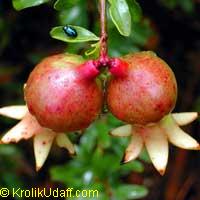 Dwarf Pomegranate - compact fruiting shrub that is often used for bonsai. Fruit are smaller than regular pomegranate, but also edible, although somewhat acid. Mostly used as cute ornamental specimen.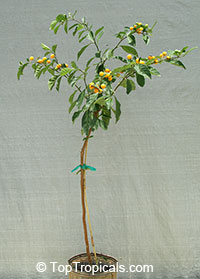 Twoleaf nightshade. A perennial woody shrub, can be shaped into a small standard tree. The fruit attract sweet-loving insects and birds. See picture of the actual plant for sale.
3755 Persea americana - Avocado Mexicola
The most cold hardy variety. Mature trees may withstand temperatures in the low-mid 20s
3391 Harpephyllum caffrum
from our private collection,
only 1 plant!
PICK UP ONLY - 10 FT TALL
African Plum. The tasty plum-like fruits are used for making jams and jellies, rose wine.

EXCLUSIVE OFFERS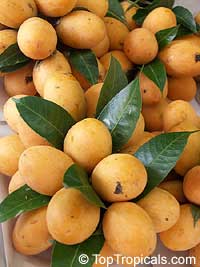 2746 Bouea burmanica - Maprang
PICK UP ONLY
Only 1 plant, from our private collection
Maprang - rare exotic fruit tree. Small tree with delicious orange fruit that looks like a small mango or apricot. See picture of the actual plant for sale.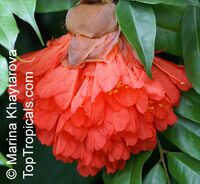 Brownea ariza -
Rose of Venezuela
from our private collection
3 gal pot - See picture of the actual plant for sale.
7 gal pot - PICK UP ONLY
This tropical American native occurs in Colombia and Venezuela, though it is widely grown in other tropical regions worldwide. A true tropical, it requires frost-free environment with hight air humidity. Assuming you can provide the tropical conditions, the species grows into a nice medium size tree 20-25 ft (smaller in containers), with dense umbrella-like canopy, spreading 15-20 ft wide.
Flowering occurs on 3-4th year from seed, at the base of the branches. The flower lasts a few days, however the view is unforgettable.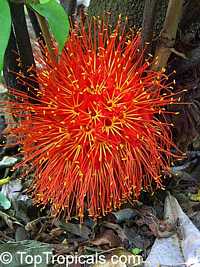 2849 Brownea kewensis
from our private collection,
only 1 plant!
Rose of Venezuela. A slow-growing, small tropical tree with very large heads of red flowers which hang beneath the foliage, growing at the base of branches.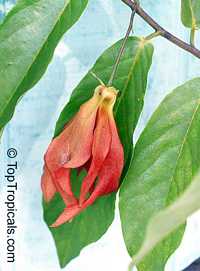 2946 Desmos sp (Red flower) - PICK UP ONLY
from our private collection,
only 1 plant!
Rare variety of Ylang Ylang vine/shrub with red flowers. Lemon candy fragrance. Delicate plant, cold sensitive, collectible. Vigorous grower once established providing warm humid conditions.
See picture of the actual plant for sale.
For full list of new arrivals,
please visit this page
10% OFF discount:
Use voucher 106318170668 in your shopping cart and click "recalculate"

2029 Azadirachta indica - Neem Tree
Neem tree - wanted plant!
Only 6 plants available, large size. Used cosmetically and medicinally by many cultures for centuries, also offers an environmentally safe alternative to synthetic pesticides.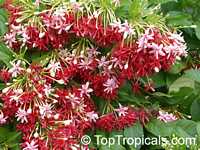 1276 Quisqualis - Thai Double Flower
Rangoon Creeper - double flower variety. An extremely beautiful shrubby vine with pale-pink to deep crimson star shaped flowers, covering the entire plant when in full bloom. It's scent is unforgettable, fruity and intoxicating! The flowers are born in clusters and each flower has many variations of color, depending on how old the flower is. The flower starts out white and or pink striped and turn solid pink and finally dark pink on maturity.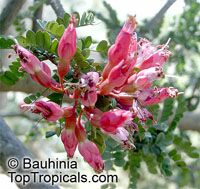 This small slow growing tree has bright red to pink flowersthat are numerous, borne in small clusters. Schotia afra can be pruned to shape and can be grown as a bonsai specimen.The seeds are edible either green, or mature.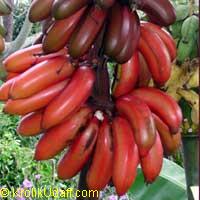 BANANAS
4076 Musa - Banana Dwarf Cavendish
3536 Musa - Plantain Dwarf Puerto Rican
SARACA (Ashoka Tree)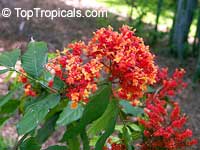 1405 Saraca indica
Only 2 plants, from our private collection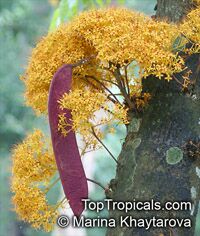 3015 Saraca thaipingensis
Only 1 plant, from our private collection