Father's Day discount coupons:
FATHER20
20% for orders over $100 (not including shipping) + 5% our standard discount
FATHER15
15% for orders over 50 (not including shipping)
Expiration date: June 20 (next Sunday is the last day)
SHIPPING TIME
Express shipping may be required for delivery befor Father's day
GIFT CERTIFICATE
Gift certificate
is always a good option.
You can also buy a gift certificate for yourself to take advantage of our exceptional discounts and use it for later purchases!
HOT WEATHER ALERT
Watch for a mailman, don't let the package sit on your sunny porch during these hot days!
SUMMER SPECIAL: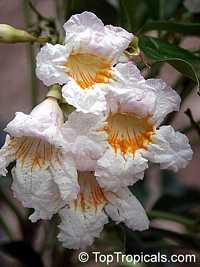 Dwarf Tree Jasmine on sale!
$$$
plus even more savings using Father's Day voucher
$$$
A very rare small Thai tree with extremely fragrant flowers. The scent resembles roses, juicy fruit, candies, fine cologne all together and can be smelled from many yards away. Leaves are very ornamental and have a fountain-like architecture. In Thailand, the tree symbolizes simplicity, endurance, advancement, and peacefulness. Extract from these flowers is used in village pharmacy as relaxant and aphrodisiac.
For full list of new arrivals,
please visit this page