4189 Acer rubrum - Red Maple
A fast growing tree, best known for its brilliant deep scarlet foliage in December-January in Florida and autumn elsewhere. It is is adaptable to a very wide range of site conditions. It can be found growing in wet sites, swamps, on poor dry soils, and most anywhere in between. Due to its attractive fall foliage and pleasing form, it is often used as a shade tree for landscapes. In Florida it grows much shorter than in colder region, reaching 20-40 ft. This plant is grown from seed collected in Florida, so it's suited for planting in Florida. it may perform worse up North. Use the plant for wet spots.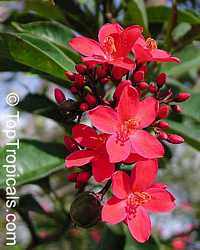 2209 Jatropha integerrima Compacta
Peregrina - a spectacular shrub in bloom most of the year. Makes a good potted plant but can also be used in a small garden and as border plant. It handles pruning well and can be kept to shrub size, trained to a tree form or used in espalier. Drought tolerant. It attracts butterflies and hummingbirds. 'Compacta' is a smaller, more compact cultivar.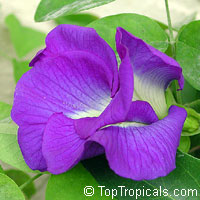 1318 Clitoria ternatea - Blue
Butterfly pea, Asian pigeonwings. Blooms year-round, easy, not invasive, controllable, not messy, curious bright blue flower - Clitoris-like flower shape, hence name of the plant. Fast-growing climber with fine foliage, pinnate leaves.

2542 Nyctanthes arbor-tristis
Parijat. This exotic small tree or shrub has highly perfumed flowers. The sweet scented flowers with white corolla and an orange-red tube in center bloom profusely, opening at night and casting off in the morning thus making a carpet of flowers. Used in Buddhist temples, for worship.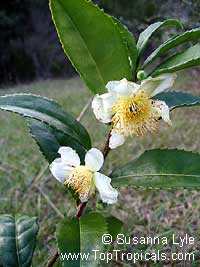 3753 Camellia sinensis - Tea
Tea plant. Small evergreen tree, usually pruned back to shrubs in cultivation. Interesting white flowers with golden stamens in fall and winter. Tea is the second most commonly drank liquid on earth after water. It has numerous medicinal benefits mainly due to its antibacterial and antioxidant properties.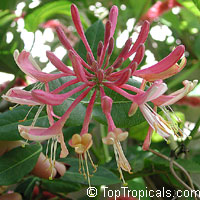 4195 Lonicera heckrottii - Pink Honeysuckle
Everblooming Pink Honeysuckle. A hybrid between Lonicera x americana and Lonicera sempervirens. It is valued for the long blooming period and the bright colors of its flowers - bright pink-and-yellow. Cold hardy, drought resistant.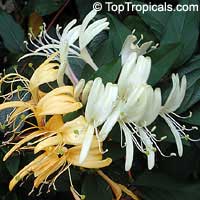 1147 Lonicera japonica - Japanese Honeysuckle
Japanese Honeysuckle, wonderful fragrance! Cold hardy fast growing vine with sweet yellow-and-white flowers from Spring to Fall.

1301 Mucuna benettii
Red Jade vine. One of the most desired vines. Displays of coral red flowers during warm months. Fast growing, spectacular vine!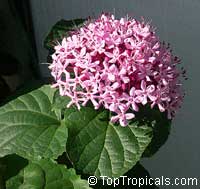 2137 Clerodendrum bungei
Cashmere bouquet, Glory Bower - ideal for the container grown Patio Plant, very fragrant and will attract butterflies to the large flower trusses. Hardy to zone 8.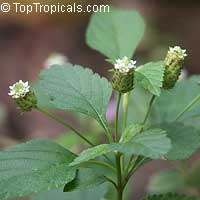 2105 Lippia dulcis
Aztec Sweet Herb, Sweetleaf - Mexican herb with an incredibly sweet leaf. Leaves can be eaten from the plant like candy or tossed into fruit salads for an unusual addition. It is used since the time of the Aztecs for coughs and colds.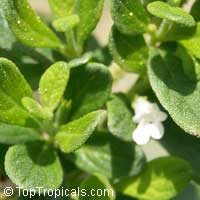 2030 Satureja Viminea (Kama Sutra Mint Tree)
Costa Rican or Jamacian Mint Tree - large shrub or small tree with pure peppermint scented leaves. This is not an herb, but a rare tree! Make your own Kamasutra mint bathing gel!