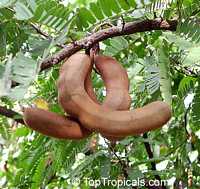 3497 Tamarindus indica - var. Sweet Thai
Sweet variety of Tamarind. A rare kind from Thailand with sweetest fruit, preferred by Asians. The pulp within the pods is used to make beverages, curries, chutneys and sauces. Also Eaten fresh, in candies and & relishes.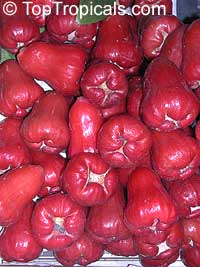 1202 Syzygium samarangense Stinark - pink/red fruit
Wax Jamboo, Java Apple. Pink / red fruit cultivar. Fruit is thin-skinned, shiny, pear shaped with long neck. Flesh is pink, mildly fragrant, juicy, and sweet. Usually eaten fresh mainly as a thirst quencher and in salads. Has a cooling effect which makes it useful as a summertime fruit.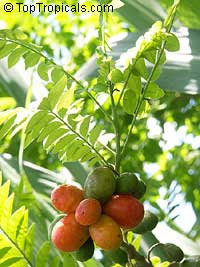 1193 Spondias purpurea
Purple Mombin, Jocote, Hog Plum, Ciruela. Very popular aromatic fruit. Good variety with dark red fruit, thin skin and small seed. Fast growing plant.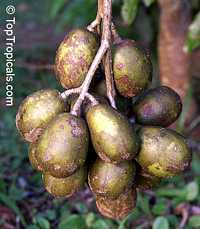 1192 Spondias cytherea
June Plum, Ambarella - very aromatic fruit, heavy fruit production. Fast growing plant.

BACK IN STOCK!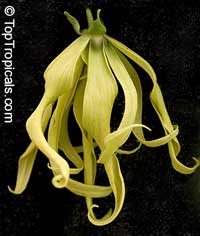 2025 Cananga fruticosa
A dwarf Chanel #5 - Ylang-Ylang, small tree or compact shrub with scented flowers. This dwarf variety appears to be more cold hardier than regular Ylang-Ylang Tree. Perfect perfume plant for container.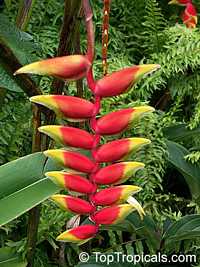 2501 Heliconia rostrata
Lobster Claw, Parrot's beak. One of the most recognized and widely grown species, and one of the most beautiful. The inflorescence it produces is one of the most colorful you will ever encounter. The flowers last a long time and make an excellent cut flower. It is an easy grower in tropical areas but some room is required because the stalks can reach 7 feet in height. It can withstand temperatures in the high 20s. Can be grown in large pots.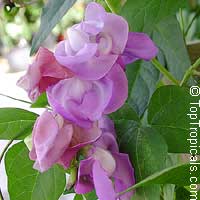 4177 Vigna (Phaseolus) giganteus
Snail vine. An outstanding and exotic looking, fast growing vine that produces masses of fragrant, curious shape, snail-like looking flowers carried in bold clusters.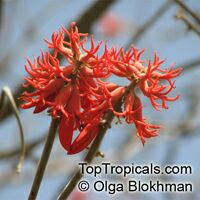 3331 Erythrina latissima
Broad-leaved Coral Tree. Flowers look like curious corals. Very large, broad leaves, tropical look. Potted plants form large caudex and can be grown as bonsai. Rare collectible.

4171 Carya illinoensis
Pecan. The nuts have a rich, buttery flavor, eaten fresh or used in cooking. Trees are very cold hardy and can be grown in USDA zones from 5 to 9.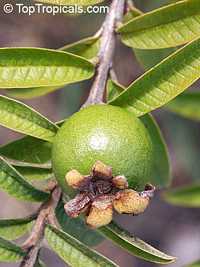 3442 Psidium guajava Nana - Dwarf Guava
This is a very small, dwarf version of the Guava. The tree grows only up to 5-6 ft tall with a short trunk and branching habit. It can be grown in a pot and fruits heavily. The tree can bear fruit almost year around. The fruit is round, and almost a full size, 1.5-2 inch size, surprisingly for the dwarf habit of the plant.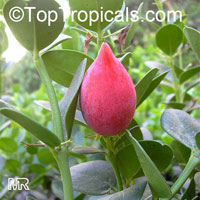 4179 Carissa macrocarpa
Natal Plum. Fragrant star-like flowers and edible fruit! The oval fruit with tender, smooth skin turns to a bright magenta-red to dark-crimson, must be fully ripe and slightly soft to the touch to be eaten raw. Makes a good container specimen or bonsai.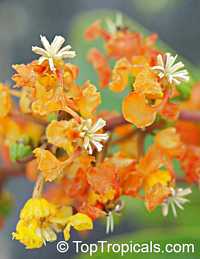 2805 Byrsonima crassifolia
Nancy Tree, Golden Spoon. A beautiful medium size tree with a nice round crown and bright pretty flowers turning from yellow through orange to red with age. It is not a common plant in cultivation. The fruits are eaten raw or cooked as dessert. It is highly drought-tolerant.