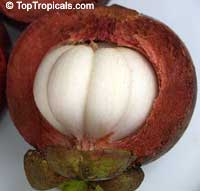 This delicious fruit has a thick, dark-red skin, inside which are creamy white segments with a sweet, slightly tart flavor. Purported by many who have had the luxury of tasting it as being the best tasting fruit in the world.
Mangosteen requires warm and humid conditions, above 50F. If you live outside Tropics, greenhouse is a must for successful growing.
The plant prefers humid conditions, root systems should remain moist year-round. Heavy mulching is recommended in drier areas to retain soil moisture.
Seedlings develop a long tap root which is vital to the survival of the tree so great care should be taken when transplanting.
Fruiting takes from 6 to 12 years from seed.
This plant will be shipped by Express Mail
(Florida - UPS 1 day)