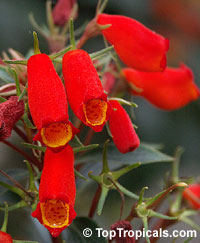 2389 Gloxinia sylvatica
Bolivian Sunset Gloxinia. Excellent houseplant or ground cover. The density of the foliage and flowers makes a spectacular show.
1014 Annona muricata
Soursop, Guanabana - best testing annona fruit. Evergreen in warm climate. Cold sensitive, will not tolerate freeze.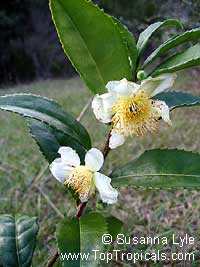 3753 Camellia sinensis - Tea
Tea plant. Yes, tea comes from a camellia! Small evergreen tree, usually pruned back to shrubs in cultivation. Interesting white flowers with golden stamens in fall and winter. Tea is the second most commonly drank liquid on earth after water. It has numerous medicinal benefits mainly due to its antibacterial and antioxidant properties.
See picture of the plants for sale.
Instruction how to make tea
For full list of fruit trees and edibles,
please visit this page
For full list of new arrivals,
please visit this page
10% OFF discount:
Use voucher 709614110201 in your shopping cart and click "recalculate"
HAPPY GARDENING!