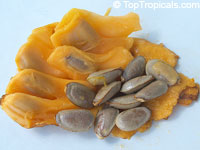 Annona Golden
Reg. $49.95; Sale: $29.95
Golden Honey Sugar Apple. This rare Annona is a species originally brought from Costa Rica.
It has a large, up to 1 lb fruit, turning dark yellow to orange on ripening. The pulp is golden to orange, resembling papaya in color and Jackfruit in texture. Flavor is like the custard apple but with papaya, apricot and melon overtones. This species tolerates flooding. It is also cold hardy at least to upper 20's for a few hours. This feature, along with a tasty fruit and flood tolerance, makes it desirable for Florida gardens and other similar subtropical areas. The plant would be very interesting for rare fruit collectors as it offers a large, exotic fruit of unusual color and taste, and appears to be much more hardy and water tolerant than similar looking but sensitive A. muricata, A. montana and Rollinia.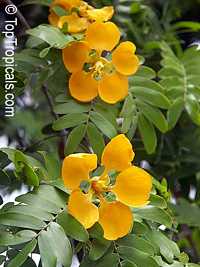 Bulnesia arborea
Reg. $39.95;

Sale: $19.95
Verawood. Beautiful specimen tree to about 40ft with bright golden-yellow to orange flowers. Drought tolerant once established. Needs good drainage, but tolerates poor soils.
Use 10% off discount code 503212160890 on top of these unbeatable prices and save even more!
Remember that your shipment can be postponed upon your request untill weather permitting conditions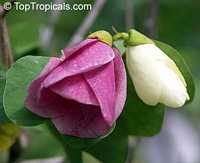 Bauhinia tomentosa
Reg. $29.95; Sale: $9.95Yellow Orchid Tree. Drought tolerant small tree with very pretty bell-shaped drooping flowers facing downward, pale yellow with a black marking in the throat, may turn pinkish with age. Nice specimen tree for the small yard or container. Not fussy about soil. A food supplement - Kachnar - is made out of this plant as a gargle for sore throats.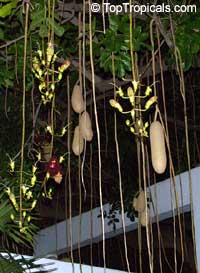 1362 Kigelia pinnata
Reg. $29.95; Sale: $14.95
Sausage tree - curious specimen tree with large 1-2 ft long fruit hanging on long ropes, and red tulip-like flowers opening at night. Fast grower, hard-to-kill plant!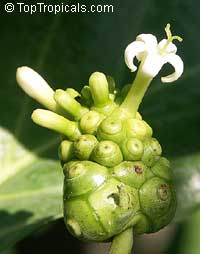 Morinda citrifolia
Reg. $19.95; Sale: $9.95
Grow your own ever-fruiting Noni Tree instead of buying Noni Juice for $25 per bottle!
Noni - a world-famous medicinal fruit. Large leaves, very tropical look, quick to fruit. This is a perfect tree for container and indoors. Will fruit indoors year round, has large beautiful ornamental leaves. Easy to grow indoors, tolerates low light.
HAPPY GARDENING!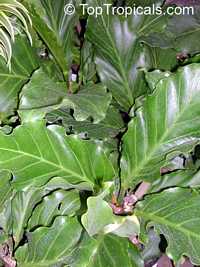 Anthurium hookeri
Reg. $39.95; Sale: $14.95
Giant Bird's Nest Anthurium. For those that love jungly plants. Their enormous wrinkly leaves have an almost cardboard like texture and grow to about 2ft.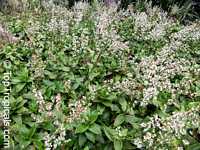 Callisia fragrans - Golden Tendril
Reg. $29.95; Sale: $14.95
Russian Holistic Medicinal Plant. It is not only a great house plant and decoration plant, it has wide medicinal use in Europe and Russia. Active biological steroid substances in this plant can struggle with any types of infections, stimulate metabolic processes, strengthen immunity and circulatory system, has positive influence on growths. It has small, white fragrant flowers arranged in clusters of three. This is a good groundcover for mild climates, as well as a nice container or hanging basket plant. Requires very little water and care.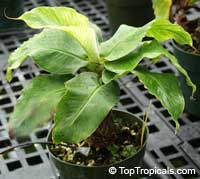 Musa - Truly Tiny Banana
Reg. $29.95; Sale: $24.95
Truly Tiny is only 1-1.5' tall. This is the best variety for growing in a pot or indoors. It produces small, 4-5" fruit, sweet, nice flavor. Best Banana for indoors and small gardens.