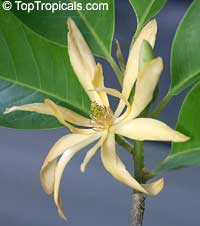 2853 Magnolia champaca x rajaniana Dwarf (Champee Si Nuan)








EXTREMELY RARE! Dwarf Magnolia (Michelia) champaca. This one is a dwarf that produces flowers earlier than other Champacas. It is the most exciting hybrid of Champaca, a very reliable bloomer. Flowers of pastel orange to cream color can be large size, in favorable conditions up to 5-6" wide (see picture), very fragrant. The Champee Si Nuan grows into somewhat smaller tree (15-20 ft) and is a perfect variety for potting culture or a small yard.
No replacements or refunds on this item.
RECOMMENDED FERTILIZERS:
SUNSHINE Pikake - Fragrant Flower Booster
Plumeria Top Dress - Smart-Release Booster

This plant does not take shipping well. After shipping it may drop leaves, recovers under proper care. Shipped on customers risk. We guarantee healthy plant to be shipped, but no replacements or refunds. We provide the best packaging. You may contact us for express shipping.