Date: 29 Jun 2019, Entry id: 1561814462-2
Variegated Shell Ginger - Alpinia zerumbet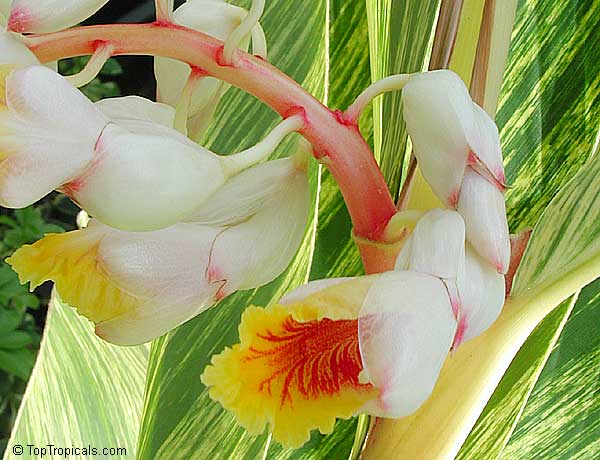 By Onika Amell, tropical plant specialist
Q: I live in Deltona, Florida and hoping to find spreading ginger with interesting foliage to grow in a partially shaded area in my garden under a group of trees. Any suggestions?
A: Variegated ginger Alpinia zerumbet variegata is a clumping ginger valued for its beautiful variegated foliage. The dark, green leaves have striking yellow stripes. This ginger is sought-after, not only for the stunning foliage but also for its beautiful flowers. The flowers are different from other members of the ginger family and appear in drooping racemes from the ends of leafy stems rather than directly from the rhizomes. This ginger is also commonly known as Shell Ginger because the flowers resemble seashells! They are pink-tinged, fragrant and appear in summer. This evergreen perennial grows in upright clumps 3-5 feet tall. You may prune the plant to control size.
It does not tolerate drought or a hard freeze but can take a few hours or light frost (goes dormant in such case). In colder areas, rhizomes should be dug up and stored in a cool room during winter.
This ginger will love a shaded corner in your garden. Plant it in organically rich, well-drained soil in full sun to part shade. Keep the soil moist but not soggy, and spread a thick layer of organic mulch around the plant for moisture retention. There are no serious insect or disease problems to worry about!
This ginger can be also be grown as a house plant as long as it has bright light and humid conditions. It will grow to around 3-4 feet tall as a houseplant.
Recommended fertilizers:
Broad Leaf Plus - Ginger-Heliconia-Banana Booster
Tropical Allure - Smart-Release Booster