Information board
free PDF downloads:
Top Tropicals guide to late-season plants (Fall through Early Spring) in SW Florida.
Late season flowering and fruiting plants: list of fall-winter flowering trees, shrubs, vines, and late season fruit that you can enjoy during Fall-Winter season. Includes list of late season mango varieties.
Top Tropicals guide to tropical fruit trees and their cold hardiness in SW Florida.
Rare fruit trees for South/SW Florida home gardens: cold hardiness for tropical and subtropical fruit trees
Very cold hardy avocado varieties.
Cold hardy avocado - list of varieties and growing instructions
Large size plants available upon request within 10 days of order date.
7 gal, 15 gal, 25 gal size pots and larger.
Can be picked up at our local garden center, or delivered to your doorstep!
Installation available.
Most popular large size plants:
Mangos: 15g - $175, 25g - $350
Avocados: 15g - $175, 25g - $350
Longan, Starfruit, Sapodilla, Atemoya, Sugar Apple, Soursop (Guanabana): 15g - $175, 25g - $350
Jaboticaba: 15g - $200, 25g - $375
Cassias, Jacaranda, Tulip tree, Royal Pinciana: 15g - $150, 25g - $275
<-- These prices are for plants picked up from our nursery. Can be delivered for $50 to your door (within 25 miles radius from our nursery).
Please contact us for availability and prices. Chose from complete lists of:
Flowering trees
Fruit trees
Mango varieties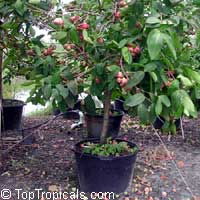 On sale today
some deals are not reflected in online store!
Special deals for walk-ins
Large plants at price of small
When it's too large to ship - pick it up at lowest price! Take advantage of this unique feature of our Shipping Facility!
ask in our office for promotional items
Top Tropicals membership
FREE membership - just fill out application form in our office or send electronically
Membership includes:
special discounts
notifications on special promotions and deals
"free plant" card
Installation and landscaping
Plants delivery - $50 within 25 miles
Tree installation
3 gal size - $20
7 gal size - $30
15 gal size - $40
25 gal size and more - $50+
Landscapng consultations - per estimate